Phonon


Profile

Name:

Phonon (フォノン)
Yoshiko-senpai (良子先輩)

Gender:

Female

Birthday:

August 5th

Height:

157 cm (5'2")

Weight:

45 kg (99 lbs)

Sizes:

Bust: 78cm
Waist: 57cm
Hip: 82cm

Bloodtype:

AB

Affiliations

Alias:

Flurry of Rending Slashes [Chemeti]
斬裂の疾空

Organization:

A former member of EFG

Battle Style

Ability:

The EXS of Whipping Sounds, "Baroque Noise"

Weapon:

Muniel

Voice Acting

Japanese Voice:
Phonon (フォノン) is a new character who appears in UNDER NIGHT IN-BIRTH Exe:Late[st].
Information
During the daytime, she's a student and Nanase's senior at the middle school they both attend. Phonon is a year older than Nanase. It's also mentioned that Phonon has a big brother.
She was a member of the student organization EFG for sometime and worked under Tsurugi. However, after she felt like she had paid back the debt she owed to the EFG, she decided to cut ties and act on her own.
Appearance
Phonon's normal hair color is black, but apparently she dyes it to green whenever she is headed into the Hollow Night.
Personality
She thinks Phonon is the true name of her soul. Most of the time, she seems very wise-cracking and quick to look down on other people through a harsh and demeaning front.
Her first name is Yoshiko (良子), but she often gets angry when Nanase calls her by that name.
Story
This sensitive girl is common in these days. She has grown bored of her peaceful life as a student and kept searching for her "true self" for a long time. She ends up becoming an In-Birth and then starts to think her powers as a "Fake Born" as her true self.
Admiring the abilities and wanting to freely use her own ability, she leaves a strictly disciplined student vigilante group, "EFG". However, her walk under the night isn't as peaceful as she expected. Someone who knows about her past appears before her and Phonon decided to make sure so erase all of this person's memories.
Abilities
Her weapon is a being called Muniel (ムニエル). Normally it takes a shape of a white snake, but when Phonon starts to battle its transforms into a whip.
Phonon's ability Baroque Noise (バロックノイズ) is the EXS of Whipping Sounds (振鳴のEXS). This ability lets her weapon to create really loud noises. Phonon herself has to wear headphones to protect herself from the noise.
Musical Theme
| Title | Description |
| --- | --- |
| Sound of Night Wind | Phonon's theme |
Introduction Text
She wishes. For the paranormal ability from the deepest
spirit of hers. Along with the white follower. False shell at
present. The wish will be fulfilled when the time comes right
here. The sword speaks. The path to the bright future. She
fails. The sword exposes. The path from the cloudy past.
She overrides.
Gallery
Concept Art
Concept sprites from
Mook
Videos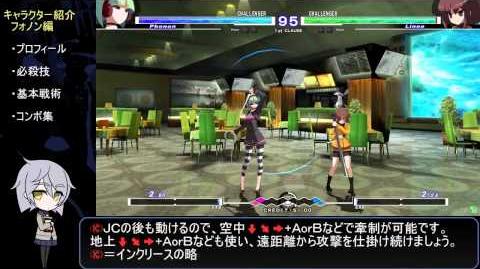 Trivia
She's based on a scrapped character idea, Chemeti, as referenced by her title.
Ad blocker interference detected!
Wikia is a free-to-use site that makes money from advertising. We have a modified experience for viewers using ad blockers

Wikia is not accessible if you've made further modifications. Remove the custom ad blocker rule(s) and the page will load as expected.