Phonon


Profile

Name:

Phonon (フォノン)
Yoshiko (良子先輩)

Gender:

Female

Birthday:

August 5th

Height:

157 cm (5'2")

Weight:

45 kg (99 lbs)

Sizes:

Bust: 78cm [1]
Waist: 57cm
Hip: 82cm

Bloodtype:

AB

Affiliations

Alias:

Cleaving Flurry [Chemeti]
斬裂の疾空

Organization:

A former member of EFG

Battle Style

Ability:

The EXS of Resonance: Baroque Noise

Weapon:

Muniel

Voice Acting

Japanese Voice:
"Might as well use this awakened manga
hero power to its fullest. No use wasting
something so cool, right?"
Phonon (フォノン) is an unallied In-Birth who has recently awakened to her powers. She is an aspiring writer who admires all kinds of supernatural things.
She first made her debut in the arcade launch of UNDER NIGHT IN-BIRTH Exe:Late[st].
Background
Adrift in a world of mystery, the "Chemeti"
Having a strong sense of power, Phonon leaves the EFG, a student self-defense force known for their strict rules, so she can use her powers more freely. Her behaviour is not unlike a normal student's, going through a sensitive stage and wanting to find their "true self" amid the exhaustion of daily life. She believes her In-Birth powers are proof of awakening to her true self. As such, she uses her power against other under the darkness of night. Little does she know that there is someone else who also moves shadows who knows her "false self" from before she awoke.[2]
Information
Phonon's real name is Yoshiko (良子), but her surname is unknown. Phonon is a pen name that Yoshiko used in her younger days. She thinks that is the true name of her soul.
During the daytime, she's a student and Nanase's senior at the middle school they both attend. Phonon is a year older than her. She and Nanase have known each other since grade school. Back then, they played magical girls outside. Phonon had very special original settings, and that later inspired her to write novels of her own.
Appearance
Phonon is a slim, young girl with green hair and grey eyes. Her attire consists of a grey, two piece waistcoat, with a pink, long sleeve dress with black streaks around the bottom and middle sections. The bottom of the dress is adorned with small, black frills. Her legwear consists of a pair of black and white striped leggings and a pair of black stilettos. She also wears a pair of red headphones to stop her from harming herself with her own powers.
Her school uniform is almost identical to Nanase's, down to the green shirt, short skirt and cravatte, which she wears more loosely. A big difference is that she wears a light grey, unbuttoned blazer over the shirt with black rimmed lapels. She also wears a pair of completely black leggings.
Phonon's original hair color was black, but it was dyed green before the main story.
Personality
Most of the time, Phonon seems to be very wise-cracking and is quick to look down on other people through a harsh and demeaning front. However, she is deeply obsessed with supernatural phenomena and would willingly risk her life to become an In-Birth (which are common traits of middle-school syndrome). During the Hollow Night, she puts on the role of a dominatrix, which can sometimes lead to some awkward situations.
Phonon is also a very bad liar, as Tsurugi was able to completely see through her act even if he didn't do any research beforehand. She also tends to be very easily sensitive towards her real name or anything to do with her mundane life, as well as having a one-sided vitriolic dynamic towards Nanase even if the very latter is genuinely acting nice towards Phonon; despite this Nanase easily angers her whenever she speaks out her real name ("Yoshiko").
Story
Episode: A False Identity, A True Self (偽りの身分、本当の自分)
Phonon starts to hear rumors about the Hollow Night about two months before the actual story takes place. Her curiosity leads her to the check if the rumors are real. On a abandoned back alley, she enters the Hollow Night and is bitten by a Void. Phonon is frightened by the happening and runs away as fast as she can.
After Phonon has recovered and returns to school, she is approached by Tsurugi from another school. Tsurugi thinks that Phonon has become one of the In-Birth. He explains that based on the rumors from that certain night and the fact that she had to take leave from school for a few days. In exchange for a weapon and further explanation about the In-Birth, Phonon joins into EFG with the condition that their alliance is only temporary.
Arcade Mode (アーケードモード)
She was a member of the student organization EFG for sometime and worked under Tsurugi. However, after she felt like she had paid back the debt she owed to the EFG, she decided to cut ties and act on her own.
She heads into the Hollow Night looking forward to enjoy herself in that paranormal world. From Gordeau she hears about a true dominatrix leading the organization, Amnesia, and starts to search for this person, and Gordeau himself also glad that Phonon is not the one he after, Licht Kreis' Crimson Knight murderer Erika Wagner. When she comes face-to-face with Hilda, she steps into a landmine by calling Hilda an "old lady". The angered Hilda attacks Phonon with all her might.
After their battle, Nanase arrives to the scene looking for the boss of evil organization. Both of them recognize each other and Nanase is overjoying their reunion. Phonon is completely taken by surprise and decides she has to erase Nanase's memory of this encounter. Afterwards, Nanase is being considerate and acts like her memory was lost and speculates that she was assaulted by Hyde Kido, whom Phonon happened to encountered before she met Gordeau. Phonon is happy with the situation as she leaves from the scene.
Abilities
Her weapon is a being called Muniel (ムニエル). Normally it takes a shape of a white snake, but when Phonon starts to battle its transforms into a whip. It was orignally a piece of Void which Tsurugi gave to her. After Phonon poured her EXS into it, the Void took a form of a whip.
Phonon's ability Baroque Noise (バロックノイズ) is the "EXS of Resonance" (振鳴のEXS). This ability lets her weapon to generate sound waves of varying levels, which has Phonon wear headphones to protect herself from its side-effects.
Musical Theme
| Title | Description |
| --- | --- |
| Sound of Night Wind | Phonon's theme |
| Title | Description |
| --- | --- |
| Sound of the Night Wind | Phonon's theme |
Introduction Text
She wishes. For the paranormal ability from the deepest spirit of hers. Along with the
white follower. False shell at present. The wish will be fulfilled when the time comes right
here. The sword speaks. The path to the bright future. She fails. The sword exposes. The
path from the cloudy past. She overrides.
Movelists
UNDER NIGHT IN-BIRTH
Name
Command
Unique Attacks
Unique Attack


特殊技

← + B
Unique Attack


特殊技

↘ + C
Unique Attack


特殊技

Midair ↓ + B
Unique Attack


特殊技

Midair ← + B
Unique Attack


特殊技

B > B
Force Function
Impulsive Frustration


衝動フラストレート

Simultaneously B + C
Special Attacks
Sliding Affliction


滑走アフリクト

↓↘→ + A or B or C
Air OK

*EX Able

Tuning Satisfaction


調律サティスファクト

↓↙← + A or B or C


*EX Able

→ Additional Input


追加入力

← + A or B or C during Tuning Satisfaction
Guiding Ascension


誘導アセンド

→↓↘ + A or B or C


*EX Able

Suppressing Restriction


抑制リストリクト

↓↓ + A or B or C


*EX Able

Infinite Worth (Consumes 200% EXS)
Binding Beatitude


拘束ビアティチュード

←↙↓↘→ + D
Infinite Worth EXS (Consumes 200% EXS)
Totally Dominating Servitude


完全征服サービチュード

A · B · C · D simultaneously
Usable when below 30% health
Check the details about Phonon's gameplay from here!
Gallery
Concept Art
Concept sprites from
Mook
Creation and Development
Phonon was originally revealed in a teaser picture posted on French-Bread's blog long before the final character roster was confirmed. Her concept art was later featured in the Exe:Late[st].
After that, she was then seen in the Start-up Navi in the section where they showcased the scrapped ideas. It was revealed in here, that Phonon's design started from the battle planner Kamone Serizawa's random ideas.
Character designer Yoshihara Seiichi's comment from Mook:
You read it as 'Shumeti'. This character was based on idea that Kamone from the development staff gave. Her hearing ability was extremely good, but on the other side her eyesight was low and her eyes were always squinted. She also possessed quite a sharp tongue and highly sadistic personality. Her pet snake would transform into a whip and she was also granted the ability to control waveforms. With those two in her use, she would have whipped her opponents (supposedly). There were certain reasons why she ended up being scrapped.
シュメティと読みます。開発スタッフの鴨音が出してくれた案をベースにデザインしたキャラです。聴力が非常に高い判面、視力が低いジド目になりがち。またかなり毒舌家で、Sっ気の高い性格。ペットの蛇が鞭に変化し、それに波形を操る能力を付与してビシバシたたいてくれる(ハズだった)キャラです。とある事情により、お蔵入りとなってしまいました。
On October 10th 2014, during French-Bread's UStream broadcast the producer Narita answers fans questions. A fan asked if it was impossible to bring back the scrapped "Chemeti", which the producer commented that it's not totally impossible. They'd have to get over certain problems to bring her back.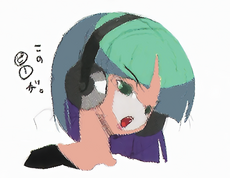 On May 15th 2015, Arc System Works finally announced Exe:Late[st] and the newly designed Phonon. When the game officially came out, French-Bread released a celebratory video in which they joked how Eltnum and Nanase had delayed Phonon's appearance even though she was created first.
Upon on her release, it was revealed that Phonon's background setting had been adjusted. Her bad eyesight trait had been removed as well as the glasses she wore in some of the concept art. Phonon's sadistic personality was also changed into a regular high-school student who likes such paranormal stuff and tries hard to mimic various cool traits.
Trivia
Phonon is based on a scrapped character idea, Chemeti, as referenced by her title.
The size of her shoes is 23 (JP scale) which is equivalent to "37" EU or "6½" US
Her weapon, Muniel is mistranslated as "Moony" in localized versions.
A phonon is a quasiparticle that is associated with compressional waves, which includes sound.
References
↑

Revealed in her gameplay tutorial video. Not written in any official materials.