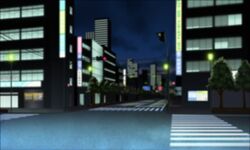 Kanzakai (環堺, also known as "The Nightless City", is the name of the town where the story of UNDER NIGHT IN-BIRTH takes place.
Information
Kanzakai is a rather quiet town in Japan located near a group of mountains. It is the homeground of the Sougetsu family and also has some historical remains from long ago from when the Night Blade resided. Some of it's notable buildings and areas include:
A group of schools, which include an elementary school (Linne and Chitose), two middle schools (Phonon, Nanase and Tomomi/Byakuya and Tsukuyomi) and a high school (Hyde, Seth, Carmine, Orie, Lex, Tsurugi and Komatsu).
Two notable cafes, one of which is world famous for it's crepes.
A video arcade.
A large park, which also includes Hilda's residence.
A river overlook.
A mountain pass.
A large shopping plaza
Despite the brightness and overall positive air of the city, it still has its share of shady activity. One of the more seedier parts of the city features a bar that acts as a get-together for members of Amnesia.
Story
Kanzakai has recently become known in the Night for having a high influx of In-Birth and Void activity. Both Linne and Waldstein travel here in order to investigate both this and the reports of a woman calling herself Paradox.