The EFG (Exist Force Guardians) is a vigilante organization.
Information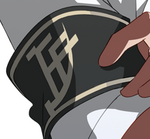 EFG is an organization run by the Student Council of the school where Tsurugi and Hyde attend. They scout newly awakened In-Births and teach them how to use their new powers to manipulate EXS. They also give strategical advise, like telling what weapon is a good combination with one's abilities.
In exchange for their knowledge, the new members are kept under a strict discipline and they are not allowed to use their powers freely.
Known Members